Time came out with their "Person" of the year.
Know who got it?
Protesters.
Know who is runner up?
Kate Middleton.
How the bloody flying fuck is she runner up and a bunch of whiny, bratty, entitled losers get to be "person" of the year even though she is the epitome of grace, elegance, class and kindness. Not to mention her wardrobe is waaaaaaaay better and waaaaaaaaaaaaaaay cleaner then the protesters'.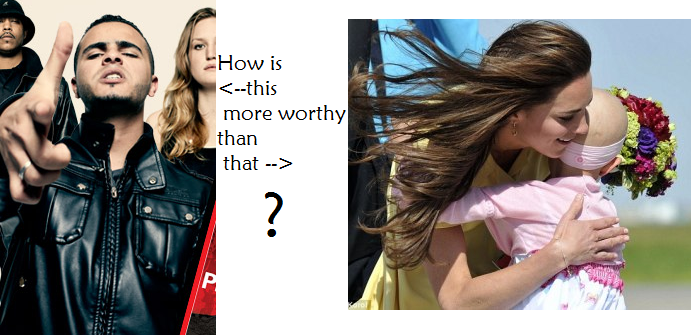 Now, we all know that 3/4s of the reason of the reason that I'm so peeved about this is because I'm a total Mini-Middleton. Kate Middleton is on my inspirational people list up there with my grandfather, Sarah Palin and Ronald Reagan.
But another more reasonable part of me is upset with this because it shows the sick glorification of violent, entitled youth that should not be encouraged. Now I get that some of these places they were protesting in were complete hellholes. But throwing molotov cocktails is not something that should be praised.
And the OWS protests DEFINITELY should not be praised. The OWS were so disgusting and depraved because of the behaviors of the protesters. And half of the protesters were entitled, spoiled, violent brats who thought it would be easier to sit around with signs causing mayhem instead of going out and being productive.
Time really needs to get their priorities straight. So does this world. We should be glorifying dignity and class, not violence and disorderliness.